LETTERS & NEWS
General Don Bolduc - Ret.
Letter of Endorsement
Laconia Daily Sun
Oct. 22, 2020
To The Daily Sun,
Growing up in Gilford, New Hampshire, I understand all too well the importance of places outside of main population hubs. I know that those who represent us across the entire Granite State are hugely important.
That is why I, Don Bolduc, put the full force of my endorsement behind Tom Plosaj, candidate for state rep in Center Harbor, and New Hampton. Tom is a stalwart conservative who will fight for the people of New Hampshire. He is dedicated not only to public service, but to one of the values that I hold dear: "service over self." As a longtime resident, Tom knows the needs of both Center Harbor and New Hampton and will bring those needs to light in his future role as your representative.
As I have said many times, this is the most important election in history. We have a choice between socialism and freedom. If we don't elect individuals that will stand against socialism, we will have to fight our way back to freedom. I know that Tom Plosaj will fight for our freedom and keep socialism out of our state.
Don Bolduc
Stratham
Laconia Daily Sun Article...
Holly Willoughby
Letter of Endorsement
Laconia Daily Sun
Oct 29, 2020
Voters should research candidates carefully.
To The Daily Sun,
Do we know who our candidates are?
I recently moved to New Hampton and wanted to learn the answer to that very question! I also wanted to learn their reasons for seeking office, something about their character and their ability.
After Googling both candidates for state Representative (Robert Joseph and Tom Ploszaj) it became an easy choice. I will be voting for Tom Ploszaj who is running for NH State Representative in New Hampton and Center Harbor.
When searching I found that Some of the questions in the surveys online are written in such a way that they are biased towards or against an issue. There were some NH surveys that attempted to fairly ask a question and allowed candidates to respond with either a yes or no answer or let them respond in their own words. I also found the candidates Letters to Editors and the replies that they generated.
I was impressed with how Tom Ploszaj answered the questions, explained the need to work for a better New Hampshire and spoke about the need to end the political finger pointing "blame game". I admire his decade of writing about why NH Reps Should be representing the voters and not their Political Party. His surveys and views are honest with no double talk or political phrases. He comes from the heart speaking about wanting to represent each of us in our district. Mr. Ploszaj's website is unlike other candidate's. Instead of having many photos with important politicians he has his viewpoints and beliefs in his own words.
I had already decided whom I would vote for while reading Tom's and Robert's Laconia Sun's Letters to the Editor and letters from people stating why they are supporting each candidate. looking through the Laconia Sun's local news articles I found a few about Robert Joseph which concerned me. I reached out to the Laconia Sun to see if this person was the same one now running for office and have received no reply about their 2013 and 2015 articles.
I would implore voters to do the same as I did. Search the web and the Sun's website with the names of Candidates and your Town. Also read the news about all candidates, there may even be more information than what I have found. I think everyone has the right to run for office and a chance to explain themselves but the voters also have a duty and obligation to let others know that the candidates qualifications and character may need to be questioned.
Most voters will vote for their political party without knowing who these people are. Since then I found the need to tell Democrats, Republicans and Independents if they read about who is running, they will also overwhelmingly agree that Mr. Tom Ploszaj is really the only person that should be sent to represent us as our NH State Representative in Belknap district 1.
Thank you
Holly Willoughby
New Hampton
Laconia Sun Article...
Rep. Harry Viens - NH House of Representatives
Letter of Endorsement
Tom Ploszaj is an important new leader for Belknap District 1 and New Hampshire.
When my wife was diagnosed with cancer I channeled all my energy into helping her fight this terrible disease and decided to forgo running for a second term as State Rep for Belknap District 1 (New Hampton – Center Harbor). At the same time I began thinking about potential candidates who would best represent New Hampton and Center Harbor and the needs and values of our District.
Tom Ploszaj came immediately to mind.
Tom believes in the rights of the individual and the common needs of the community. He will fight to protect the basic freedoms we all enjoy here in New Hampshire while working to serve the greater needs of the community. He supports quality education, is an environmentalist and will fight to improve the quality of life for working families. At the same time he will work to minimize taxes, eliminate needless government regulations and protect personal freedoms.
I believe he represents a good balance between fiscal responsibility and a sensible social safety net.
Please join me in electing Tom to be our newest State Representative.
Harry Viens
State Representative – Belknap 1
Dr. Valerie Fraser - Former NH House of Representatives
Letter of Endorsement
Dear Editor;
For the voters of Belknap County District 1-Center Harbor and New Hampton- I recommend Tom Ploszaj for state representative. He is a hard working family man, with Christian values and will be an asset to those of us in support of conservative principles.
As a former state representative for this district, I endorse Tom Ploszaj. His purpose is to defend the NH and US Constitutions. They are the guidebooks for our democratic republic and should be studied and referenced when discussing the issues of the day or proposing legislation. Tom Ploszaj is acting as our founders suggested; that people "volunteer" their time and help keep this country on the right track and protect its moral character.
On voting day vote for Tom Ploszaj!
The Hon Dr. Valerie Fraser RN DVM
Tom Smith - Former New Hampton Selectman
Letter of Endorsement
Oct 5, 2020
Tom Smith: I want a uniter, not a divider representing us in Concord
To The Daily Sun,
Congratulations to the individuals who are asking to represent the voters of New Hampton and Center Harbor to be their state representative. Many express their opinions, but few step forward to serve in public service.
Voting for your state representative is important as all other elected positions. It is important to know who the candidate is and their opinions and not necessarily their party affiliation or in this case the town they reside in.
I consider a number of factors before I cast my vote, including the issues they support, character, someone who will unite and not divide, one who will vote for their constituents wishes and not those of the party leaders, a fiscal conservative and one who exercises common sense.
After much consideration of these and other issues, i have decided that Tom Ploszaj is the best choice to be our next state representative for New Hampton and Center Harbor.
Tom Smith
New Hampton
[ Tom Smith is a former New Hampton Selectman ]
Tom Smith's Laconia Daily Sun Article...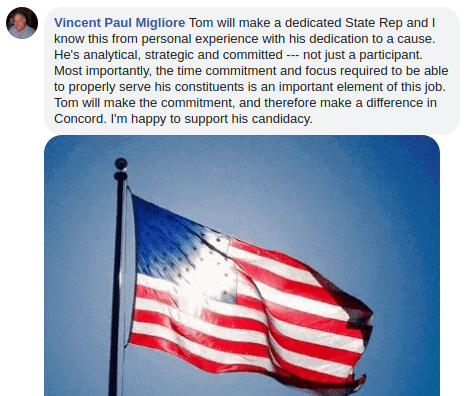 Tom Ploszaj's Letter to Voters
Laconia Daily Sun
Oct 29, 2020
It would be an honor to have your vote.
I'm honored to ask for your vote to work as your NH Representative
To all the New Hampton and Center Harbor residents with whom I've met, emailed with, spoke by phone, and the snail mail letters of support. Thank You.
Meeting you, I have learned so much more about our area, its history, and people along with the discussions, suggestions, and ideas of how our towns, Lakes Region, and State can be improved.
To those I have not yet met due to living on Private Ways, land being Posted, or not being at home; I invite you to visit my web page www.tomploszaj.com, candidate surveys like Vote-USA https://vote-usa.org/Intro.aspx?State=NH&Id=NHPloszajTom...
and contact me on any issue such as the resident with the ambulance billing question that the Town Administrator happily explained for me so I could help the person better understand it, or just to touch base and say Hi.
If you know someone I had missed please share my invite that I am available and anxious to meet to listen and learn, believing that our district's voters should really know the person who they want to represent them.
Tom Ploszaj
Center Harbor
Tom's Laconia Daily Sun Article...
Concord Monitor Newspaper
Belknap County District 1: Joseph and Ploszaj
Published: 10/7/2020
Tom Ploszaj
Party: Republican
Age: 66
Town of Residence: Center Harbor
Occupation: Retired from Analytic Research Science - FT-IR, Microscopy
What specific policy do you see as most vital?:
As a fiscal Constitutional, my policy is to involve residents to be pro-active in protecting the rights of all and supporting responsible budgets that address property taxes, quality education, and reducing fees for responsible Granite Staters while providing opportunities and advancement for both workers and businesses.
How do you plan to address the significant budget challenges our state will face in the months ahead?:
The pandemic reminded us that the Legislature cannot continue to buy votes with promises of more and more government programs and entitlements without first establishing dedicated funding that provides the revenue needed to continue programs during unplanned deficit.
I will be a fiduciary for the New Hampshire taxpayer and their future generations by working with all legislators to formulate budgets addressing the over $500M of lost revenue due to COVID-19 without an income or general sales tax.
The New Hampshire Advantage needs to be strengthened. New Hampshire's successful financial future will be our visitors and tourists along with being a more worker-friendly and pro-business state.
Vote Smart .org Political Courage Test
I submitted my replies to Vote Smart to help Belknap 1 voters better know what my personal believes and opinions are.
https://justfacts.votesmart.org/candidate/political-courage-test/141713/...
Again, I plan to legislate for the best interests of our district and use my fundamental beliefs as a starting point in deliberations and compromise in accordance with the NH Constitution to improve New Hampshire and it's future.
NRA-PVA 2nd Amendment Endorsement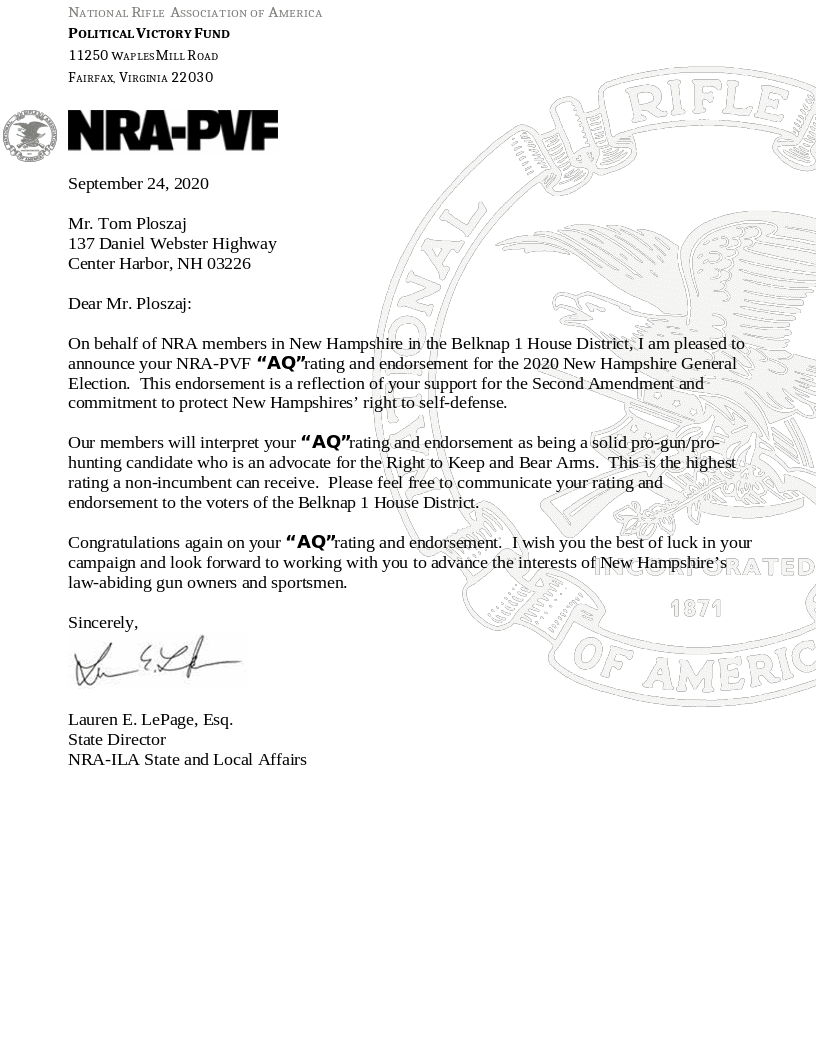 NH Gun Owners of America PVF
2nd Amendment Endorsement
CONGRESSIONAL TERM LIMITS
ARTICLE V - CONSTITUTIONAL CONVENTION
I believe that the time has come that the NH General Court should deliberate the idea to discuss congressional term limits.
I sign the organization, U.S. Term Limits, Candidate's Pledge.
https://www.termlimits.com/wp-content/uploads/2017/12/blankState-Article...
I do not support a "run-away" convention nor a multi-article convention.
I do not support the U.S. Term Limits organization's view that the Philadelphia Convention of 1787 was not a "run-away" convention.
My belief is the historical fact that the Philadelphia Convention of 1787 ignored and did not recognize Article XIII of the Articles of Confederation (no changes made until all 13 State legislature agreed)
https://h2o.law.harvard.edu/text_blocks/8681 .
For the Federalists to gain control of the Convention in order to replace the duly establish government of the united States of America Article XIII was ignored and the requirement that 9 States could make changes.
There is a possible opportunity for a political association to take over a U.S. Constitution Article V limited convention.
https://www.termlimits.com/dispelling-the-runaway-myth/
Cheshire County voters researched their candidates and casted their ballots.
FOX NEWS Sept. 12, 2020
https://www.foxnews.com/politics/transexual-satanist-anarchist-picks-up-...
https://sos.nh.gov/elections/elections/election-results/2020/2020-state-...
[ Please return to www.TomPloszaj.com afterward]
NH Republican Party shared with voters a letter of character by my daughter. Sept. 2020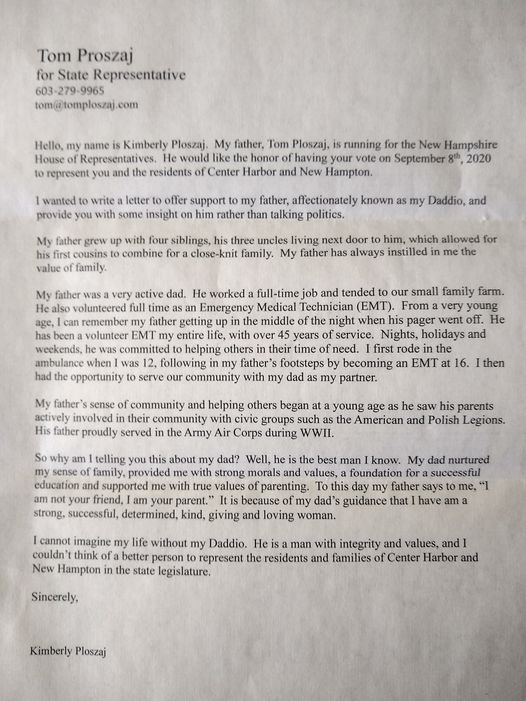 Laconia Daily Sun
I'll address state revenue shortfall without resorting to new taxes
Sep 3, 2020 Updated Sep 4, 2020
To The Daily Sun,
On Tuesday, we will vote in the Sept. 8 Primary.
New Hampton and Center Harbor Republican and undeclared voters, I would like to ask you to cast your vote for Tom Ploszaj. Democrat voters are allowed to enter my name as a write-in.
As a fiscal representative I will work with the legislature to address the revenue shortfall of over $500K due to the COVID-19 shutdown without any new or increase in taxes which would be a double blow on our district's residents and businesses.
Since my March 3rd letter when I announced my wish to represent you, I have met with our state senator and three of our state reps to better understand what has been our issues and needs to be better prepared for what will be expected in dealing with the post COVID-19 pandemic. I am meeting and listening to residents about what they expect and how best to make sure their issues and concerns can be heard in Concord where I would be representing you, not a political party nor be involved in the political bashing or rhetoric. If we have not met yet please contact me.
I encourage you to know your candidate. The Laconia Daily Sun website has a good archive of letters to the editor. Search for my March 3 and 2014 letters to understand better that my beliefs have been constant and not new, and that as a state representative I'd work for all the residents and the district, not a political party's leadership. I have encouraged people and organizations to share their facts and data concerning bills and issues with me so I can be better informed of all viewpoints.
Organizations' candidate surveys have been completed and some are now posted of where I stand on issues. Some of the questions had appeared to be leading or asking for a Yes/No reply on complex issues so please read my comments to better understand my reply. I am available for discussion or clarification if needed.
Tom Ploszaj
Center Harbor
The Weirs Times July 2, 2020 page 2
Tom Ploszaj for State Rep
https://issuu.com/weirspublishing/docs/wtimes070220?fbclid=IwAR2nMfM3arP...
Laconia Daily Sun
Tom Ploszaj: I'm running to represent New Hampton & Center Harbor in Concord
Mar 2, 2020 Updated Mar 3, 2020
To The Daily Sun,
I'm proud to announce my campaign for Republican candidate for state representative in New Hampton and Center Harbor.
New Hampshire has many issues but our House seat belongs to the residents and I will make it a priority to be available and meet with as many residents as possible, asking them what they expect of their representatives, and hear their views on how we can make our towns and state better for our children and the future.
I am able and willing to devote my time to fully represent our district, pledge to attend all votes and committee meetings and will strive to maintain New Hampshire's high state rankings in quality of life by upholding N.H. Constitution, protect your liberties and freedoms and continue to support a healthy and safe environment. As a husband, parent, and property owner, I believe in responsibility and accountability in government at all levels.
My wife Marta and I live in west Center Harbor. We have four children and three grandchildren. I was in EMS for over 40 years and served as a volunteer EMT, volunteer fire department member, emergency dispatcher, town trustee, former Lions Club member and legislative bill reviewer and policy analyst.
I have enjoyed a variety of work experiences, among them were farm laborer, construction trades, small business owner, and analytical research scientist with a chemical engineering degree. This broad life experience gives me an appreciation for the many employment and economic challenges New Hampshire faces as well as issues to be addressed in the Legislature.
Some of the best things we can do are to reach out, be involved and help our communities. I ask you to contact me about your concerns, ways to improve our state and to join me in continuing to maintain the high quality of representation our towns have enjoyed.
Tom Ploszaj
Center Harbor
Laconia Daily Sun
Remember, on Nov. 6, vote Yes on constitutional amendment questions
Oct 9, 2018 Updated Oct 9, 2018
Remember, on Nov. 6, vote YES on the Bipartisan 2018 Constitutional Amendment Questions supported by both Democrats and Republicans (www.http://sos.nh.gov).
Constitutional Amendment Questions:
1. "Are you in favor of amending article 8 of the first part of the constitution to read as follows: [Art.] 8. [Accountability of Magistrates and Officers; Public's Right to Know.] All power residing originally in, and being derived from, the people, all the magistrates and officers of government are their substitutes and agents, and at all times accountable to them. Government, therefore, should be open, accessible, accountable and responsive. To that end, the public's right of access to governmental proceedings and records shall not be unreasonably restricted. The public also has a right to an orderly, lawful, and accountable government. Therefore, any individual taxpayer eligible to vote in the State, shall have standing to petition the Superior Court to declare whether the State or political subdivision in which the taxpayer resides has spent, or has approved spending, public funds in violation of a law, ordinance, or constitutional provision.
In such a case, the taxpayer shall not have to demonstrate that his or her personal rights were impaired or prejudiced beyond his or her status as a taxpayer. However, this right shall not apply when the challenged governmental action is the subject of a judicial or administrative decision from which there is a right of appeal by statute or otherwise by the parties to that proceeding."
(Passed by the N.H. House 309 Yes 9 No; Passed by State Senate 22 Yes 2 No) CACR 15
2. "Are you in favor of amending the first part of the constitution by inserting after article 2-a a new article to read as follows: [Art.] 2-b. [Right to Privacy.] An individual's right to live free from governmental intrusion in private or personal information is natural, essential, and inherent."
(Passed by the N.H. House 235 Yes 96 No; Passed by State Senate 15 Yes 9 No) CACR 16
Tom Ploszaj
Center Harbor
Laconia Daily Sun
Rep. Migliore's letter to paper was humble and respectful
Feb 17, 2018
To The Daily Sun,
In Rep. Migliore's recent letter, I recognize traits I would expect of a N.H. elected official; respectfulness, reconsideration with new data and concern for all constituents.
Those voters who may never be in complete agreement with their elected officials but should give credit when it is due.
Rep. Migliore was polite in his calling-out voter apathy for what it is, in his listening to people where he was able to reconsider and acknowledge a possible error in his voting, the explanation of financial items to constituents who should have done their own research of the budget, and in not telling people how to vote but offering his view with a recommendation and reminder of the alternative that is still available to them was welcomed. He was humble in reminding us by paraphrasing Ben Franklin that it is up to us to maintain what we cherish.
Tom Ploszaj