LETTERS & NEWS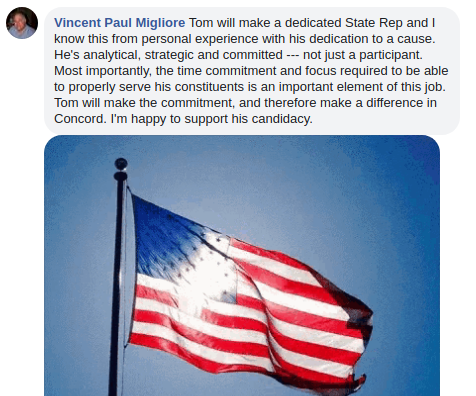 -
-
-
-
-
-
-
-
-
-
-
-
-
-
-
-
-
-
-
-
-
-
-
-
-
Cheshire County voters researched their candidates and casted their ballots.
FOX NEWS Sept. 12, 2020
https://www.foxnews.com/politics/transexual-satanist-anarchist-picks-up-...
https://sos.nh.gov/elections/elections/election-results/2020/2020-state-...
[ Please return to www.TomPloszaj.com afterward]
-
-
-
-
-
NH Republican Party shared with voters a letter of character by my daughter. Sept. 2020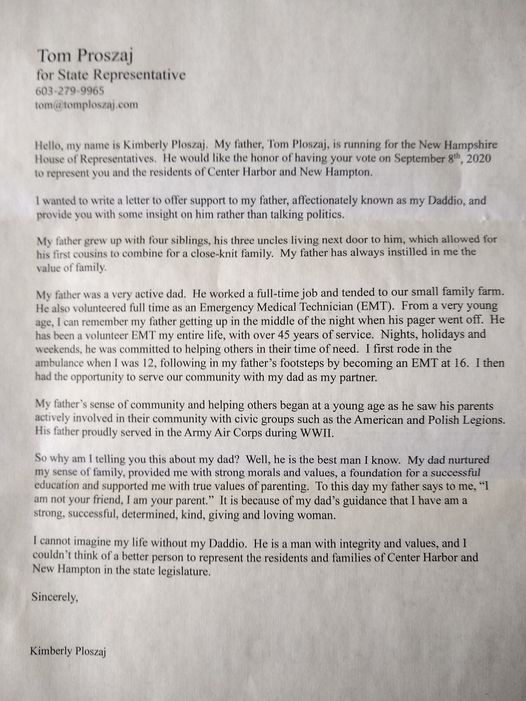 -
-
-
-
-
-
-
-
-
-
-
-
-
-
-
-
-
-
--
-
-
-
-
-
-
-
-
-
-
-
-
-
-
-
-
-
-
-
-
Laconia Daily Sun
I'll address state revenue shortfall without resorting to new taxes
Sep 3, 2020 Updated Sep 4, 2020
To The Daily Sun,
On Tuesday, we will vote in the Sept. 8 Primary.
New Hampton and Center Harbor Republican and undeclared voters, I would like to ask you to cast your vote for Tom Ploszaj. Democrat voters are allowed to enter my name as a write-in.
As a fiscal representative I will work with the legislature to address the revenue shortfall of over $500K due to the COVID-19 shutdown without any new or increase in taxes which would be a double blow on our district's residents and businesses.
Since my March 3rd letter when I announced my wish to represent you, I have met with our state senator and three of our state reps to better understand what has been our issues and needs to be better prepared for what will be expected in dealing with the post COVID-19 pandemic. I am meeting and listening to residents about what they expect and how best to make sure their issues and concerns can be heard in Concord where I would be representing you, not a political party nor be involved in the political bashing or rhetoric. If we have not met yet please contact me.
I encourage you to know your candidate. The Laconia Daily Sun website has a good archive of letters to the editor. Search for my March 3 and 2014 letters to understand better that my beliefs have been constant and not new, and that as a state representative I'd work for all the residents and the district, not a political party's leadership. I have encouraged people and organizations to share their facts and data concerning bills and issues with me so I can be better informed of all viewpoints.
Organizations' candidate surveys have been completed and some are now posted of where I stand on issues. Some of the questions had appeared to be leading or asking for a Yes/No reply on complex issues so please read my comments to better understand my reply. I am available for discussion or clarification if needed.
Tom Ploszaj
Center Harbor
-
-
-
-
-
-
The Weirs Times July 2, 2020 page 2
Tom Ploszaj for State Rep
https://issuu.com/weirspublishing/docs/wtimes070220?fbclid=IwAR2nMfM3arP...
-
-
-
-
-
-
-
Laconia Daily Sun
Tom Ploszaj: I'm running to represent New Hampton & Center Harbor in Concord
Mar 2, 2020 Updated Mar 3, 2020
To The Daily Sun,
I'm proud to announce my campaign for Republican candidate for state representative in New Hampton and Center Harbor.
New Hampshire has many issues but our House seat belongs to the residents and I will make it a priority to be available and meet with as many residents as possible, asking them what they expect of their representatives, and hear their views on how we can make our towns and state better for our children and the future.
I am able and willing to devote my time to fully represent our district, pledge to attend all votes and committee meetings and will strive to maintain New Hampshire's high state rankings in quality of life by upholding N.H. Constitution, protect your liberties and freedoms and continue to support a healthy and safe environment. As a husband, parent, and property owner, I believe in responsibility and accountability in government at all levels.
My wife Marta and I live in west Center Harbor. We have four children and three grandchildren. I was in EMS for over 40 years and served as a volunteer EMT, volunteer fire department member, emergency dispatcher, town trustee, former Lions Club member and legislative bill reviewer and policy analyst.
I have enjoyed a variety of work experiences, among them were farm laborer, construction trades, small business owner, and analytical research scientist with a chemical engineering degree. This broad life experience gives me an appreciation for the many employment and economic challenges New Hampshire faces as well as issues to be addressed in the Legislature.
Some of the best things we can do are to reach out, be involved and help our communities. I ask you to contact me about your concerns, ways to improve our state and to join me in continuing to maintain the high quality of representation our towns have enjoyed.
Tom Ploszaj
Center Harbor
-
-
-
-
-
-
-
Laconia Daily Sun
Remember, on Nov. 6, vote Yes on constitutional amendment questions
Oct 9, 2018 Updated Oct 9, 2018
Remember, on Nov. 6, vote YES on the Bipartisan 2018 Constitutional Amendment Questions supported by both Democrats and Republicans (www.http://sos.nh.gov).
Constitutional Amendment Questions:
1. "Are you in favor of amending article 8 of the first part of the constitution to read as follows: [Art.] 8. [Accountability of Magistrates and Officers; Public's Right to Know.] All power residing originally in, and being derived from, the people, all the magistrates and officers of government are their substitutes and agents, and at all times accountable to them. Government, therefore, should be open, accessible, accountable and responsive. To that end, the public's right of access to governmental proceedings and records shall not be unreasonably restricted. The public also has a right to an orderly, lawful, and accountable government. Therefore, any individual taxpayer eligible to vote in the State, shall have standing to petition the Superior Court to declare whether the State or political subdivision in which the taxpayer resides has spent, or has approved spending, public funds in violation of a law, ordinance, or constitutional provision.
In such a case, the taxpayer shall not have to demonstrate that his or her personal rights were impaired or prejudiced beyond his or her status as a taxpayer. However, this right shall not apply when the challenged governmental action is the subject of a judicial or administrative decision from which there is a right of appeal by statute or otherwise by the parties to that proceeding."
(Passed by the N.H. House 309 Yes 9 No; Passed by State Senate 22 Yes 2 No) CACR 15
2. "Are you in favor of amending the first part of the constitution by inserting after article 2-a a new article to read as follows: [Art.] 2-b. [Right to Privacy.] An individual's right to live free from governmental intrusion in private or personal information is natural, essential, and inherent."
(Passed by the N.H. House 235 Yes 96 No; Passed by State Senate 15 Yes 9 No) CACR 16
Tom Ploszaj
Center Harbor
-
-
-
-
-
-
-
Laconia Daily Sun
Rep. Migliore's letter to paper was humble and respectful
Feb 17, 2018
To The Daily Sun,
In Rep. Migliore's recent letter, I recognize traits I would expect of a N.H. elected official; respectfulness, reconsideration with new data and concern for all constituents.
Those voters who may never be in complete agreement with their elected officials but should give credit when it is due.
Rep. Migliore was polite in his calling-out voter apathy for what it is, in his listening to people where he was able to reconsider and acknowledge a possible error in his voting, the explanation of financial items to constituents who should have done their own research of the budget, and in not telling people how to vote but offering his view with a recommendation and reminder of the alternative that is still available to them was welcomed. He was humble in reminding us by paraphrasing Ben Franklin that it is up to us to maintain what we cherish.
Tom Ploszaj