About Tom Ploszaj ( Plo - shay' )
[[ I am keeping this page active for historical reference to my past primary campaigns. TP 10/12/18 ]]
Hello.
Thank you for visiting, your comments and suggests are always welcome.
I am asking people from Grafton House District 9, Alexandria, Ashland, Bridgewater, Bristol and Grafton for your vote in the Special Election.
http://sos.nh.gov/nhsos_content.aspx?id=8589968830&terms=Grafton%20No%209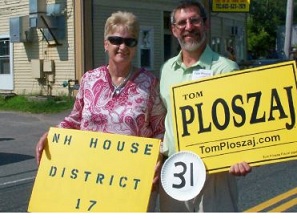 Marta and I have four children and three grandchildren.
I retired after 15 years with Uniroyal Specialty Chemicals-Compton Corp. as an analytical scientist with a chemical engineering degree and as a 15 year member of the United Auto Workers (UAW 626) with NDH-General Motors as a machine and line operator. Our family has had occupations in nursing, teaching, construction, small business, office work and the sciences.
A member of the Grafton Volunteer Fire Dept., volunteer helping the Canaan Lions Club and a retired Volunteer Emergency Medical Technician (EMT) who has worked helping those in need long side law enforcement and fire safety for 40 years.
In caring for people of my communities I has served on town boards, commissions and committees.
Being a registered Democrat for 45 years I look forward to you contacting me and discussing how the General Court acted on your behalf and how your issues or concerns were represented during these last three elections.